Events
Evangelism and World Missions Conference
7-9 October 2011
Red Hill Lutheran Church
Tustin, CA
"What we have seen and heard we proclaim to you also, so that you too may have fellowship with us; and indeed our fellowship is with the Father, and with His Son Jesus Christ. These things we write, so that our joy may be made complete."
The apostle John begins his epistle with these words to bring you confidence and joy. The reason the church exists is to make much of Christ, to tell others about the wonders and gifts the resurrection provides. Evangelism and World Missions are the words we use to describe what it is to speak of our confidence and joy in Christ's resurrection.
Lutherans, as a whole, have a particularly rich theology that is too often squandered in regard to Evangelism. Since Lutheran's in America have been largely ethnic in makeup, yet now are more diverse (especially in suburban centers) we strive to find new and inclusive ways to engage non Christians. A popular way is to look at what others are doing, so we look to programs that have numbers and short-term success, projects that have catchy titles and a finite duration promising "results". Looking outside may have kept our Evangelism and Missions committees working, but has it prepared us for the task of proclamation? Or, to put it a biblical way, has discarding the plain presentation of Christ Crucified brought with it fruit that we recognize? These are some of the questions we will answer this weekend.
Join us for a weekend of dialog devoted to sharing the freedom from sin that Christ secured for you. John Bradosky, Dr. James Nestingen, Dr. Yohannes Mengsteab, and Dr. Adam Francisco will lead us through these joys and gifts provided to every Christian. This will be a weekend of confidence building stories and engagement with fellow believers centered around the greatest story ever told.
Event Presenters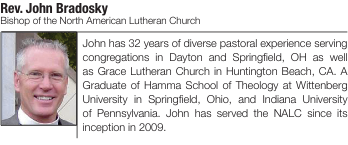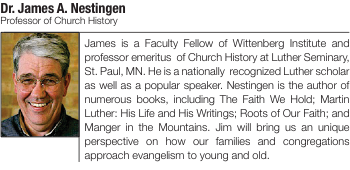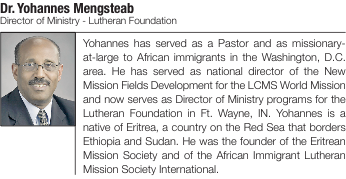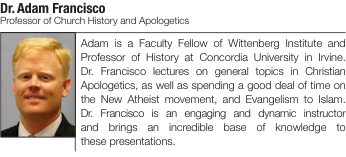 Keynote Lectures
John Bradosky  |  Evangelism as a Matter of Identity
Evangelism is not formulaic, rather it is the clear proclamation of the Good News found only in Christ Jesus that has not only made a profound difference in our life but is the essence of our life and our identity.
James Nestingen  |  Secondary Confirmation (Two lectures)
Secondary Confirmation is the historical way Lutheran's have passed on the faith to our children and grandchildren. Bringing up God fearing children falls to parents and grandparents, aunts and uncles, godparents and teachers; all helping to re-prioritize life so that the Christian narrative is passed down to our children at all ages.
Yohannes Mengsteab  |  Crossing Cultures & Languages
World Evangelism is meant to cross both cultural and linguistic barriers. When Christ set loose the gospel in Matthew 28, the vision was for peoples of all tribes and tongues to hear the good news of salvation. Dr. Mengsteab provides a picture of and encouragement for becoming global fishers-of-men.
Adam Francisco  |  Contending for the Faith with Confidence
The culture that surrounds us regards the gospel as legend or myth. This assumption is continually affirmed when Christians fail to contend with confidence for its truthfulness. This lecture assesses our current cultural milieu and offers a basic yet essential apologetic response grounded in the core claim of Christianity: that God was in Christ reconciling the world unto himself (2 Cor. 5:19).
Yohannes Mengsteab  |  The Content of World Missions
The language and content provided us in the small catechism: comfort and provision, assurance and gift is the same that we are sent with to the world. If the framework of World Missions is culture and language, Christ crucified is the true content as Yohannes illustrates with stories from the mission field.
Adam Francisco  |  The Challenge of Islam
Islam seeks, as the Qur'an 9:33 puts it, to prevail over every religion. This includes Christianity. What this all means—and there is already plenty of evidence for it—is that theological encounters with Islam will become more commonplace as Muslim populations increase in number and confidence. This lecture will hone in on the theological challenges and evangelical opportunities some might already be experiencing and others can expect in the near future.
James Nestingen  |  Confession and Absolution: The gospel flows from forgiveness
Are confession and absolution outdated practice from an outdated church? What does it mean when we hear, "your sins are forgiven on account of Christ"? What happens in the declaration of these words that is worth continuing the practice? Jim will discuss these questions with refreshing clarity and constant focus on Christ as he brings the wisdom of Scripture to bear on this important Christian doctrine.
All these great lectures plus four Breakout Group series offering unique presentations about Evangelism, World Missions and Education!
replica rolex watch
Register for this Event
omega speedmaster professional